In business since
since 1990
JORDAN is a private, family manufacturing company established in 1990 in Lublin.
AA
BRC certificate with the highest rating

Over
100
Satisfied Clients

Since our formation, the primary business of our company has been the manufacture of polyethylene film and film packaging.
We manufacture our products using constant compositions to ensure the reproducibility of the items supplied to our customers, and we can offer short lead times thanks to correct allocation of production capacities.
The quality of our products is monitored by the Laboratory Department, which makes sure that all of our goods conform to the implemented HACCP and BRC standards.
Diligence, flexibility, adherence to schedules and direct contact with our clients are our primary strengths. We can meet these expectations thanks to our constantly improving machinery and the refurbishment and extension of our factories and warehouses.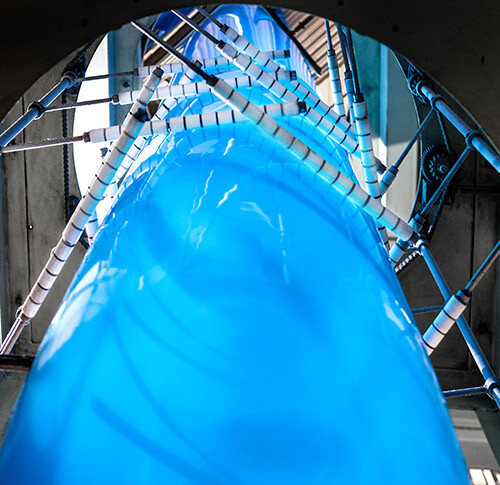 Our products
Our products come in a wide range of sizes and colours, including transparent film, full-body film, clear film or film with flexographic print.

We manufacture film itself, and we also have state-of-the-art sealing lines.
We keep advancing our organisation and making investments into the future with emphasis on systematic improvement of our quality management system. We have implemented the HACCP system, and we comply with requirements of the BRC Global Standard for Packaging and Packaging Materials with the highest rating – AA.
Jordan collaborates only with reputable suppliers of raw materials, we have all current test certificates, food contact certificates and other certificates required for products that have contact with food, which guarantees the high quality of our products and services.
Due to the diverse applications of our products, they have to meet a wide range of requirements, such as: resistance to low temperature, high transparency, low odour and taste permeability, durability or air tightness. These features of our products are regularly confirmed by thorough testing.
About us